A verbal confrontation took place during a round of 32 Canadian tennis Open match between players Danielle Collins and Maria Sakkari. According to the footage posted on X, formerly known as Twitter, Sakkari, from Greece was told to "shout her mouth" by Collins, from the United States.
This occurred when the Greek player spiked her ball into the crowd. During the short clip, the commenter says that Makkari was "frustrated" but that this was not a reason for her to throw the ball into the stands. In spite of the player's apologies to the chair umpire and spectators, Collins did not take the action lightly.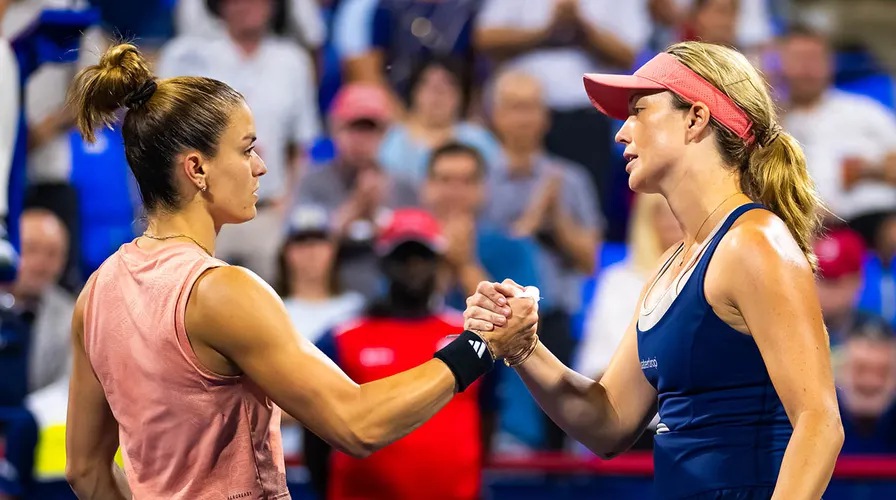 The American player, who was leading the game 6-4, 2-1 in the second set, told the chair umpire "Did you just see that? Did you see what happened?" after the ball went out of the courtroom. Makkari quickly talked back and said, "It didn't even hit anyone, it was on the ground."
After this, Collins told her opponent to shut her mouth twice, while the chair umpire made a gesture to calm both women down. Consequently, the audience can be heard shouting and applauding, possibly at Collins for calling out the Greek player on her inappropiate behavior.
Finally, Collins won the match with a 6-4, 6-2, score and advanced to play Canadian Leylah Fernandez on Thursday, August 10. Both women shook their hands as they left the court, still, the situation has given audiences and Internet users lots to talk about regarding the behavior of tennis players during their matches.
Tense moment at WTA 1000 Montreal tonight between Sakkari and Collins.

I agree with Collins here–the officials need to be way stricter on players recklessly smacking the ball and throwing racquets into the stands.

Should be no looking the other way when that happens. pic.twitter.com/fpsA6MSnm2

— Ben Rothenberg (@BenRothenberg) August 10, 2023