The Sanderson sisters are back in the sequel to the 1993 Disney film "Hocus Pocus" Actress Sarah Jessica Parker, who played Sarah Sanderson, shared a behind-the-scenes look at the filming of the sequel to the iconic film.
Parker shared a photo of three feet in boots on her Instagram account. The 56-year-old actress tagged her co-stars Bette Midler, who plays Winifred Sanderson, and Kathy Najimy, who plays Mary Sanderson, in each of the boots, signifying her reunion.
"Dance rehearsal.
No rest for the wicked.
Sabbath ha.
X, SJ.", she captioned the image.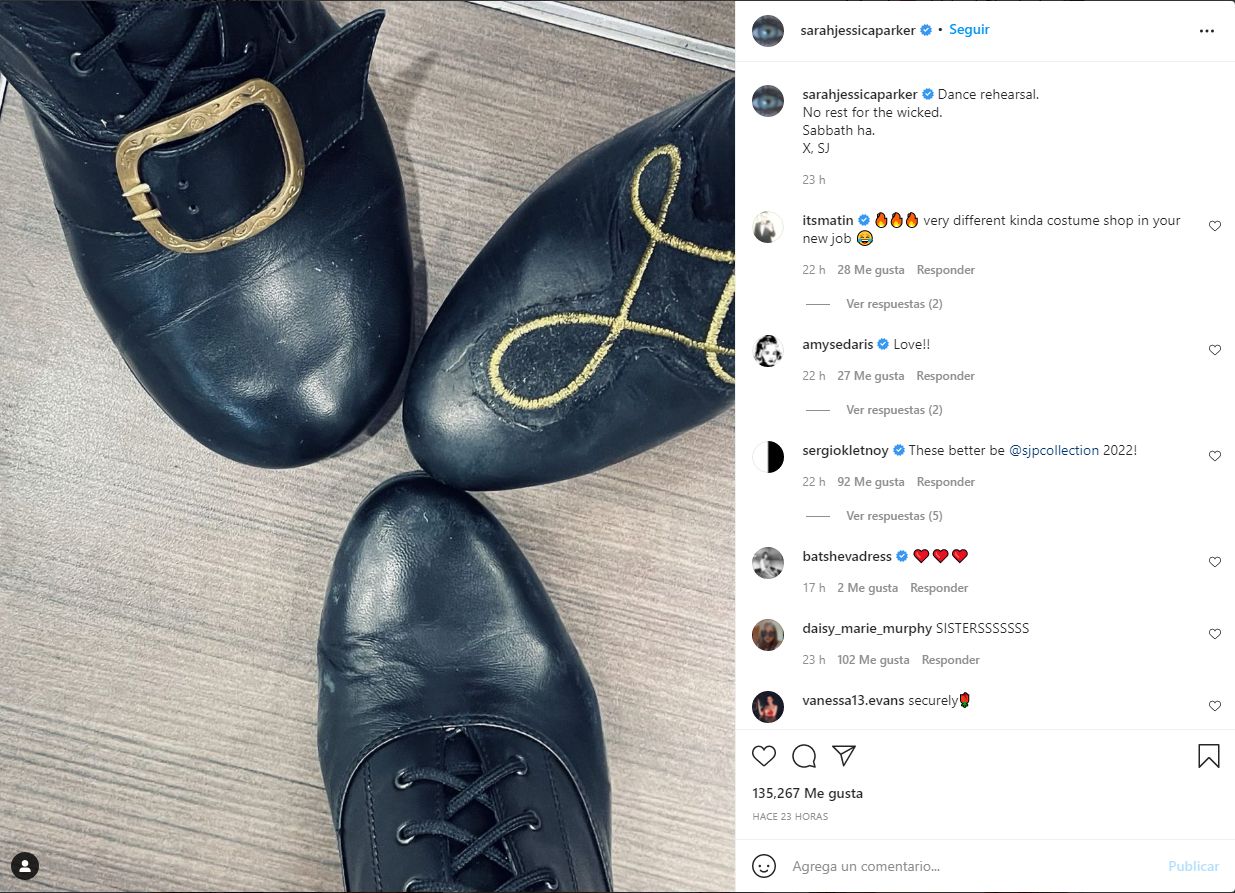 In the comments of the publication, fans eagerly celebrate after the small preview of the long-awaited sequel, which will arrive 30 years after the release of the original film. Fans were especially excited that the Parker legend is releated to another musical number, as one of the best scenes from the first film is the trio's performance of "I Put a Spell on You"
Earlier on Friday, November 2nd, Midler got a first look at the Sanderson sisters in the sequel. The actress posted a photo on social media of the three women bringing their characters to life again, donning their original witch costumes, each posing to revive the essence of each character for the first time in a long time.
"Sistaaaaahs! It's time!", Midler captioned both posts.
Sistaaaaahs!  'Tis time!#HocusPocus2 is now in production, coming Fall 2022 to @DisneyPlus. pic.twitter.com/z5nQmtMVIo

— bettemidler (@BetteMidler) November 12, 2021
In addition, the 75-year-old actress shared initial details about the film, adding that "Hocus Pocus 2" is currently in production and will arrive on Disney + in the fall of 2022.
The official announcement of the sequel to the Halloween classic was in December 2020. In addition to Disney confirming the news in a tweet, Midler and Parker shared announcements on their social networks, each representing their characters.
"Sistaaaahs! It's been 300 years… But we're BACK!" Midler tweeted

"#HocusPocus2 Arrives Fall 2022 on @DisneyPlus".
Sistaaaahs! It's been 300 years… But we're BACK! ? #HocusPocus2 arrives Fall 2022 on @DisneyPlus. pic.twitter.com/OFMTlfjCDq

— bettemidler (@BetteMidler) May 20, 2021
"Yep.

I'm ready.

To run.

Amok, amok, amok, amok.

#HocusPocus2 Arrives Fall 2022 on @DisneyPlus

Sisters???

X, SJ", Parker wrote with the charm of Sarah.
Entertainment Weekly reported that the sequel would tell the story of the three sisters waking up once again in present-day Salem, Massachusetts. The witches will use their sorcery to exact revenge on those who have wronged them, but only three high school students, Becca, Cassie, and Izzy, can work to stop them.