A federal judge has ordered Texas to remove the floating barrier located in the Rio Grande as a measure to deter migrants. In addition, it has also been ruled that Texas will be prohibited from constructing or placing new barriers in this river. The recent decision was announced on Wednesday, September 6 and marks a victory for Biden's government.
This barrier was placed in the area as a measure to deter immigrant's influx and was part of Governor Greg Abbott's security efforts against migration. However, the barrier will have to be dismantled by September 15, according to Judge David Alan Ezra. Abbott has stated that the buyouts were installed to deter the journey of migrants coming from Mexico.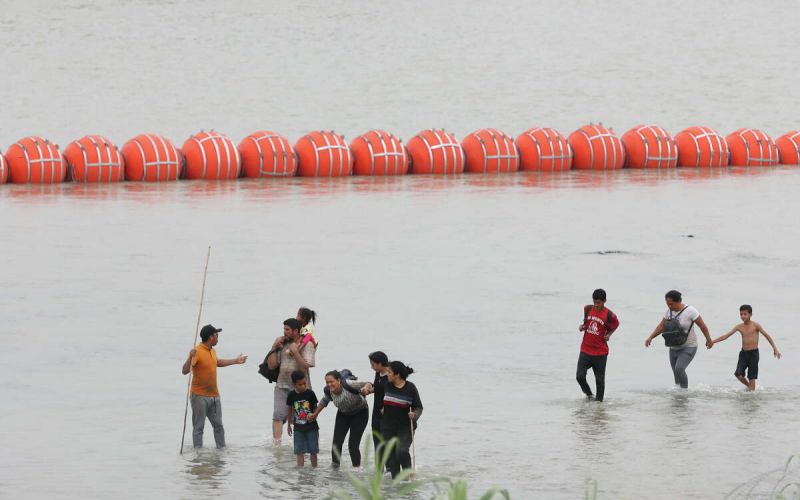 The lawsuit to stop the use of the barrier was filed in the U.S. District Court, and it says that Abbott, who is a Republican politician and Texas itself, violated the Rivers and Harbors Appropriation Act by installing an aquatic structure without permission from U.S. Army Corps of Engineers. In response, Texas said:
"This ruling is incorrect and will be overturned on appeal. We will continue to utilize every strategy to secure the border, including deploying Texas National Guard soldiers and Department of Public Safety troopers and installing strategic barriers."
Ezra also stated that:
"Governor Abbott announced that he was not 'asking for permission' for Operation Lone Star, the anti-immigration program under which Texas constructed the floating barrier. Unfortunately for Texas, permission is exactly what federal law requires before installing obstructions in the nation's navigable waters."
In this clash of ideals, Texas has affirmed that they do have the authority to deploy the barrier to protect the state, while Ezra has decided to put a stop to this action. It is not the first time Texas faces a lawsuit regarding barriers, as a Texas canoe and kayak business owner filed a lawsuit as well earlier in July.
President Biden's open border policies are putting lives at risk.

Texas deployed tactical marine barriers to stop migrants from making the dangerous decision to cross the Rio Grande.@TexasBorderCzar visited Eagle Pass to provide an explanation of how these barriers work. pic.twitter.com/gyl8xOGnQO

— Gov. Greg Abbott (@GovAbbott) August 23, 2023