An astronaut eating a honey sandwich in zero gravity has gone viral in the last few weeks. The man, who is the first Arabian astronaut to complete a spacewalk, has shown in the video how honey changes form in space and it has become widely popular across social media platforms.
The astronaut, named Sultan Al Neyadi, is from the United Arab Emirates and has shared the experience of eating honey sandwiches on his X, formerly Twitter, account while he was on board the International Space Station (ISS). Neyadi is currently on a space mission for six months with a 6-member crew.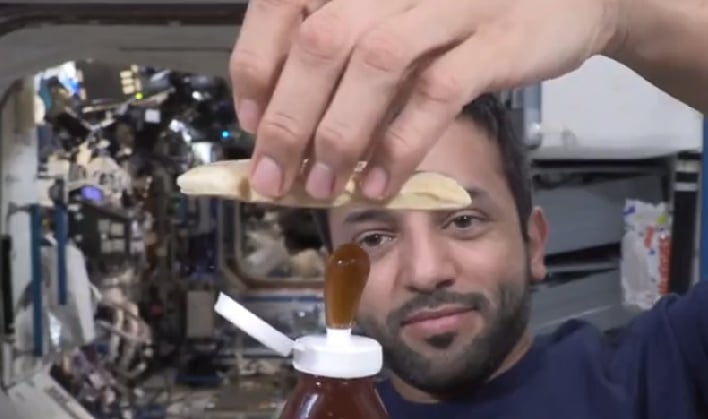 The tweet he captioned questions users about the shape of honey in space. The astronaut stated "Have you ever wondered how honey forms in space? I still have some Emirati honey left that I enjoy from time to time. Honey has many benefits, especially for the health of astronauts." In response, tons of users on X have remarked how surprising it is to see the different forms honey takes on space.
However, it is not the first time the man has had a video clip going viral on social media platforms. Previously, he had a post becoming very popular on social media with his son. Both were having a video call when his son Abdulla Sultan Al Niyadi asked him what his favorite thing about planet Earth was. His father responded, "You are the thing that I love most about Earth." The clip quickly gathered thousands of views due to the emotional reply.
Have you ever wondered how honey forms in space? 🍯
I still have some Emirati honey left that I enjoy from time to time. Honey has many benefits, especially for the health of astronauts. pic.twitter.com/RrjQYlNvLD

— Sultan AlNeyadi (@Astro_Alneyadi) August 20, 2023