Britney Spears and her husband, Sam Asghari, are getting divorced after being married for 14 months. Asghari, who is a model and a personal trainer, filed a petition to end the union in the Superior Court of Los Angeles on Wednesday, August 16. He cited "irreconcilable differences."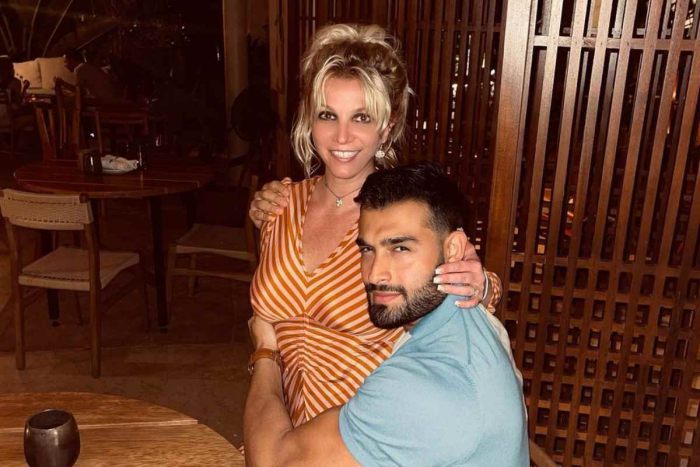 Following the news of the divorce becoming public, Britney Spears posted a dance video on her Instagram account on Friday night. In this clip, the "Toxic" hit-maker confirmed the situation stating "As everyone knows, Hesam and I are no longer together," calling her ex-husband by his birth name. She later explained herself more and affirmed:
"But, honestly, I couldn't bear the pain anymore," she continued, then adding, "I've played tough for far too long, and my Instagram might look perfect, but it's far from reality, and I think we all know that!!! I'd love to show my emotions and tears about how I truly feel, but for some reason, I've always had to hide my weaknesses."
In addition, the pop star addressed her father in the post, who put her under a conservatorship for over a decade, until it stopped in 2021. This event alone received a lot of media coverage and was an example of abusive relationships inside family circles.
"If I wasn't my dad's strong soldier, I would be sent away to places to get fixed by doctors !!! But that's when I needed family the most."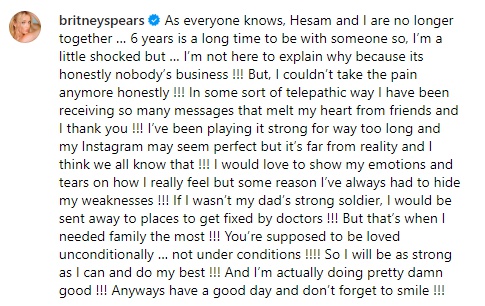 Britney Spears and Sam Asghari met in 2016 in the recording of Spears' music video for "Slumber Party," After that, they got married in June 2022, seven months after the conservatorship ended. Following this situation, the couple remained together for a little more than a year until Asghari filled out the papers for divorce.