Elon Musk and Mark Zuckerberg have been exchanging controversial messages about having a cage fight through social media platforms. It all started back in June when a Twitter user made a comment regarding Zuckerberg's jiu-jitsu skills on a Twitter (now X) post made by the CEO of Tesla. Musk later replied to it as a joke and stated that "I'm up for a cage match if he is lol."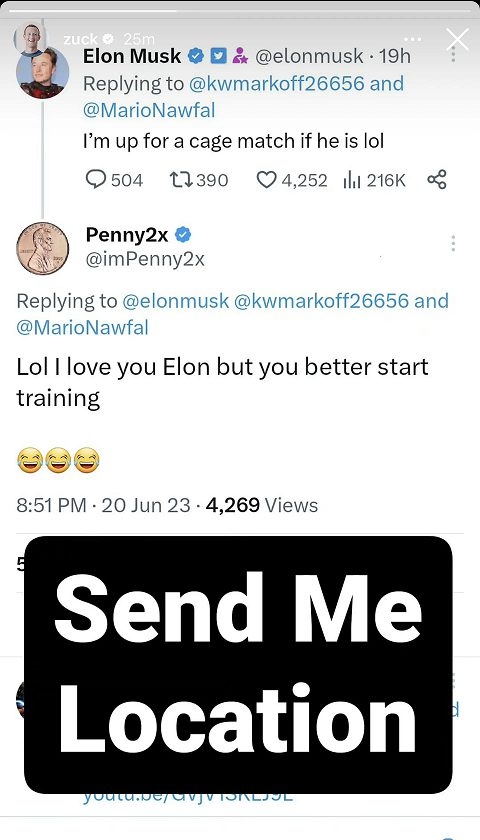 After this, the Instagram owner, Zuckerberg, affirmed he was ready and posted a story saying "Send Me Location." Weeks passed by and the physical confrontation never took place. However, according to the Meta CEO there had been even official proposals to make it a charity event, but Musk never agreed to do it so he was "never serious" about it in the first place.
"Elon won't confirm a date, then says he needs surgery, and now asks to do a practice round in my backyard instead. If Elon ever gets serious about a real date and official event, he knows how to reach me. Otherwise, time to move on. I'm going to focus on competing with people who take the sport seriously."
In response, Musk talked back and affirmed that Zuckerberg has declined all places, even his own home. "I suggested his home as a "safe space." Tragically, he was ahem "traveling." Is there anywhere he will fight?" the billionaire expressed on his own account.
In this turn of events, Musk has now put all the blame on his social media platform rival and made a quick recap of the cage fight ever since it started in June. As of now, none of the billionaires have agreed on a place to take their confrontation to, and no details about it becoming an event for charity have been released.
Fight Recap:

I joked on X about fighting Zuck

Zuck then said "SEND ME LOCATION"

Italy graciously offered a Colosseum

Zuck declined

I suggested his home as "safe space"

Tragically, he was ahem "traveling"

Is there anywhere he will fight?

— Elon Musk (@elonmusk) August 15, 2023