Iggy Azalea is currently addressing her letter of support regarding the case involving Tory Lanez and Megan Thee Stallion. Lanez, born Daystar Peterson, was sentenced to 10 years in prison after shooting Thee Stallion, born Megan Pete. According to Iggy Azalea, the rapper deserved a "transformational, not life-destroying" sentence.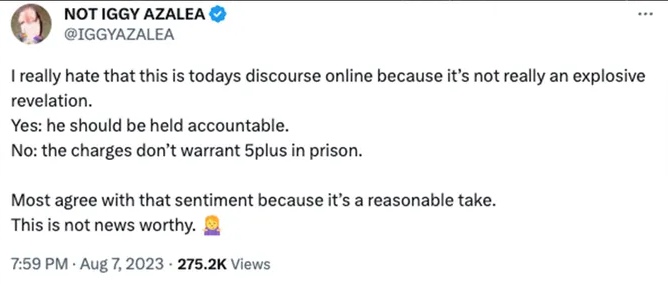 In addition, the "Black Widow" rapper further explained her reasons to the public as to why she submitted the letter before the attorney in Los Angeles. On an X post, formerly Twitter, she stated "I am not in support of throwing away ANY ones life if we can give reasonable punishments that are rehabilitative instead. I support prison reform. Period." She later stated that her letter was only meant for the judge, and she did not know it would be released publicly.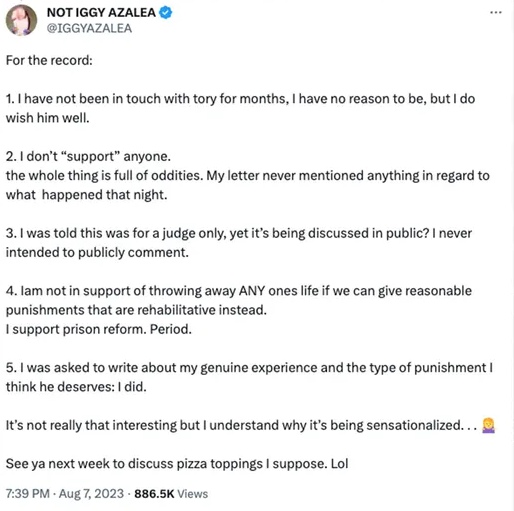 On a similar note, Tory Lanez's defendant also found the judge's decision too severe for the case and said that his client was being used as an example. "I have seen homicide case, other cases where there's a death and the person still gets less than 10 years." He stated.
Megan Thee Stallion was not present at the time of the sentencing hearing. However, she left a written statement in Los Angeles Court which said that "He not only shot me, he made a mockery of my trauma. This is a statement for all survivors that their lives matter and there is zero tolerance for the torture that accompanies violence."