A popular influencer and Twitch streamer, Kai Cenat, assembled a large number of followers for a giveaway in New York City, specifically at Union Square. However, the event got out of control after the park got severely overcrowded, and major altercations took place among the attendees.
The 21-year-old Internet celebrity posted a message on his Instagram account. He invited his followers to Lower Manhattan for a major event to thank his fans for their support. During that occasion, he attempted to broadcast it live and giveaway prizes and gifts for people who attended, including PlayStation 5 consoles, gaming chairs, webcams, headphones, keyboards, and computers on Friday at 4 p.m. on Union Square Park.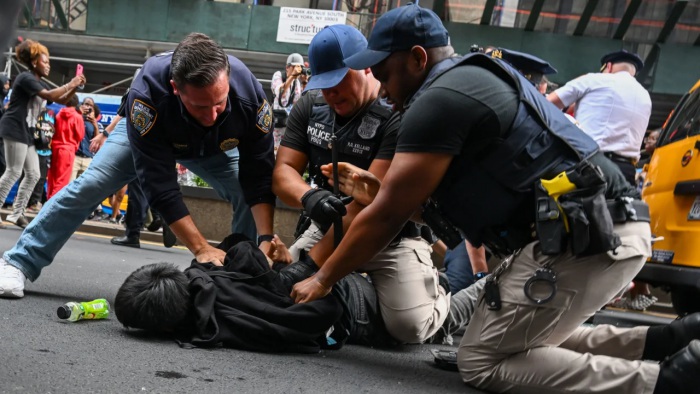 The number of people quickly went from a few hundred individuals to a couple thousand in just minutes. The streets became overrun with people, causing vehicular and pedestrian traffic. According to New York Department Police Chief, Jeffrey Maddrey, "Soon the park and the surrounding streets were overrun with people, obstructing vehicular and pedestrian traffic. We went from 300 kids to a couple of thousands of kids in minutes."
As Cenat's fans awaited him on the streets, some started comitting acts of violence and threw objects at the crowd and the police. Some of these individuals even took construction items, which were used by them against other attendees and officers. As a result, dozens of people were arrested and several police officers and young people were injured.
Kai Cenat, who did not request a permit for the event, was removed from the area for safety reasons. As he did not alert the police regarding the massive gathering, he has been charged with two cunts for inciting a riot and unlawful assembly, according to Maddrey.
NYPD was seen smashing a Kai Cenat fan's face into the rear windshield of a taxi, causing him to bleed.

The NYPD arrested 65 people, including 30 juveniles, following a chaotic PlayStation giveaway event by Kai Cenat in NYC's Union Square Park.

— BoreCure (@CureBore) August 5, 2023