Pokémon has been with his fans ever since the franchise started rolling in the late 90s. The spectacular creatures have been part of video games, anime series, manga books, and more. They have become so important for fans that some have even included the Japanese monsters in their most important life decisions.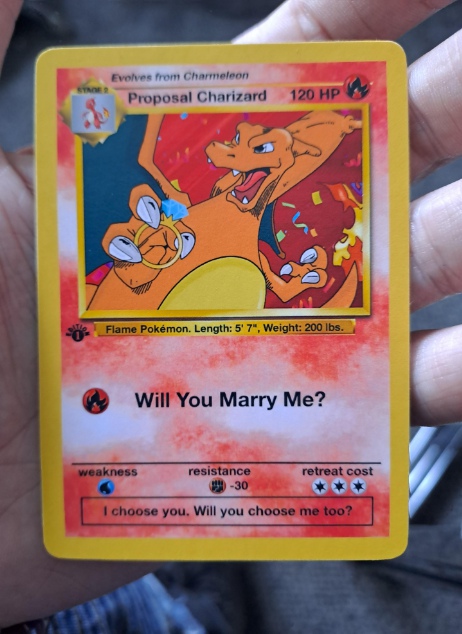 This was the case for a Pokémon fan who decided to propose to his girlfriend in a very unusual but interesting way. The man utilized a Pokémon card with a creature from the franchise. This person took one of the most important life stages with the fire-type Pokémon, Charizard, helping lead the way.
This was later shared online by the person who did this himself. We are talking about Reddit user, Kirbington86. He showed his card named "Proposal Charizard," which features the Fire-type Pokémon along with a ring and a huge diamond. Of course, the central question "Will you marry me?" was printed on the card as well.
Apparently, the "Proposal Charizard" gave positive results. The fan confirmed that his proposal strategy came all right because his girlfriend said yes and they will soon start a new adventure. This is now a brand-new chapter in the Pokémon trainer's life!
The Pokémon franchise has for sure become iconic and it has taken over different media products such as video games and animated series. The latest show for the Pikachu company will be airing this year with brand new protagonists.