In recent months, there has been a new "throwing objects" to performers trend and rapper Cardi B has been the latest victim of this nonsense. Unfortunately, this is not the first time something similar occurs this year. Previously, a number of artists have had concertgoers throwing objects on stage for no reason.
In Cardi B's case, she was performing at the Drai's Beach Club in Las Vegas on Saturday, July 29. The rapper was in the middle of her 2018 hit song "Bodak Yellow," when suddenly one of the concert-goers decided to raise their drink and throw the liquid at her.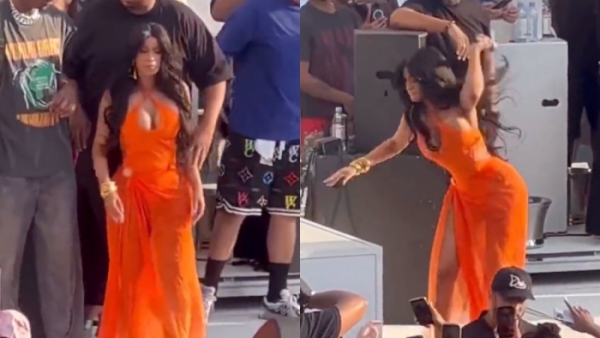 Visibly mad, Cardi B reacted with anger and threw the microphone at the attendee, she did not hesitate to fight back. After that, the rapper yelled in surprise at the person and her security guards quickly rushed towards the public space to catch the fan who threw the beverage. Following this, her security was seen intercepting the individual in the crowd as the "Be Careful" hitmaker moved on with her show.
Unfortunately, the situation that took place in Las Vegas with Cardi B is just the most recent event of this kind as of this year. Other artists including Drake, Harry Styles, Bebe Rexha, and P!nk have been thrown different objects while singing or performing on stage. Adele has even addressed the issue saying she would "kill" any fan who attempted to do something like that.