Adele is currently moving forward with her shows in Las Vegas, which are part of a residency that has seen the "Rolling in the Deep" juggernaut perform at Caesars Palace every Friday and Saturday night. As her concert, titled "Weekends with Adele," keeps gathering fans all around the United States and the globe, the singer took the occasion to make some important remarks.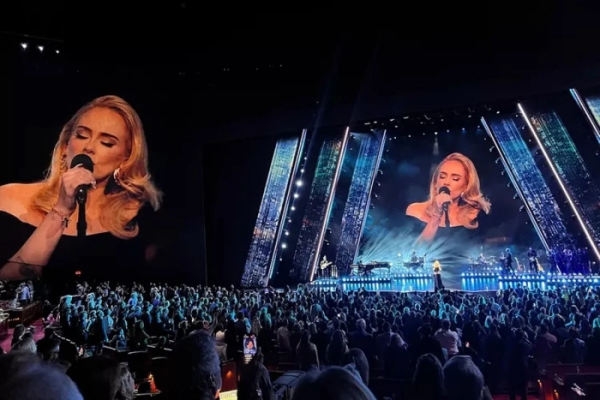 The "Easy on Me" vocalist told her audience that people have forgotten "show etiquette at the moment" and remarked that some fans have thrown different things on stage while the artist is performing. She later threatened any attendee who attempted to do this by saying: 
"Dare you throw something at me and I'll f*cking kill you. Stop throwing things at artists!"
Adele's declarations come after a number of incidents that have occurred in previous weeks while different singers have been performing. For example, one concertgoer decided to throw a cell phone at Bebe Rexha, and she was later taken to the hospital. After that, P!nk was thrown ashes in her show and Lil Nas X had to doge a sexual toy while he was performing.
However, it is not the first time that controversial moments take place during her performances. Previously, she had signed a woman's bride dress, reportedly ignored the Kardashian family who was at the show, and most recently she has addressed the recent "throwing objects on stage" trend that some concertgoers have managed to become popular.
Adele talks about concertgoers throwing things at artists:

"I fucking dare you. Dare you to throw something at me and I'll fucking kill you." pic.twitter.com/vy680y8ekm

— Pop Crave (@PopCrave) July 4, 2023