The space tourism company Virgin Galactic, which was founded by billionaire Richard Branson, announced that its first commercial flight to space has been successfully completed today, Thursday, June 29. This marks a milestone for the aeronautical industry and the space tourism field. It is even more important for the company, which was founded in 2004 with the goal of conducting experiences like these.
The spacecraft departed from the Spaceport America base in the desert state of New Mexico at 6:39 p.m., and it sent the VSS Unity spaceplane to a high enough altitude. At that point, it separated and flew to the boundary of space, reaching a total of 85.1km at 7:36 p.m. This space flight, named Galatic 01, was previously conducted two years ago, after Richard Branson and his five-member team utilized Virgin Galatic to fly in July 2021.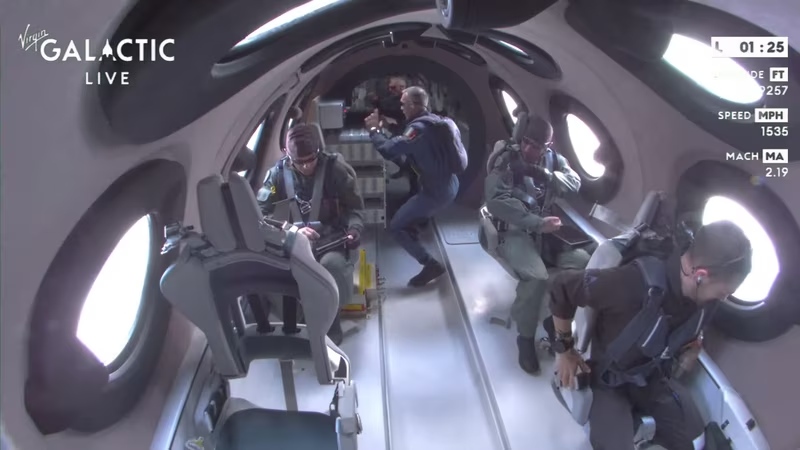 The highly-anticipated trip carried 4 passengers on board including a Virgin Galactic trainer who oversaw the experience from the cabin, two high-ranking Italian Air Force members, an engineer from the Italian National Research Council, along with two pilots in charge of conducting the fight. The experience had a 70-minute duration and it was paid by the three Italian passangers at a cost of 450,000 dollars per seat. The spacecraft finally landed on American ground at 7.49 p.m, proving the success of the journey.
This is now the fifth occasion for the American company to head up to space in recent years. Virgin Galactic has previously done so before, but with some of its employees as passengers. However, this was the first time a space flight was ever done commercially and for tourism reasons. As for the general public, the prices are out of range for most people with the cheapest ticket being sold at 450,000 dollars. Due to this reason, it is expected that future trips are done by celebrities and the richest people in the world.