A concerning announcement regarding the health of mega-star Madonna was made public yesterday Wednesday, June 25.  Her long-time manager, Guy Oseary, stated that she was sent to a New York hospital after being found unresponsive. According to reports by Page Six, the artist was sent to the ICU where she was intubated for at least one night before having the tube removed. The reasons for the hospitalization are related to a bacterial infection she had developed over the last few weeks.
Following the announcement of Madonna's entry to the hospital, Oseary also confirmed that as of today, the pop hitmaker is now alert and will stay under medical care for now. The manager also expressed that a complete recovery is expected and that they will be going over their working agenda once her health condition has fully improved.  In addition, a source for TMZ stated that the 64-year-old singer had been feeling a mild fever, but apparently refused to go to the doctor as she was preparing for her upcoming world tour.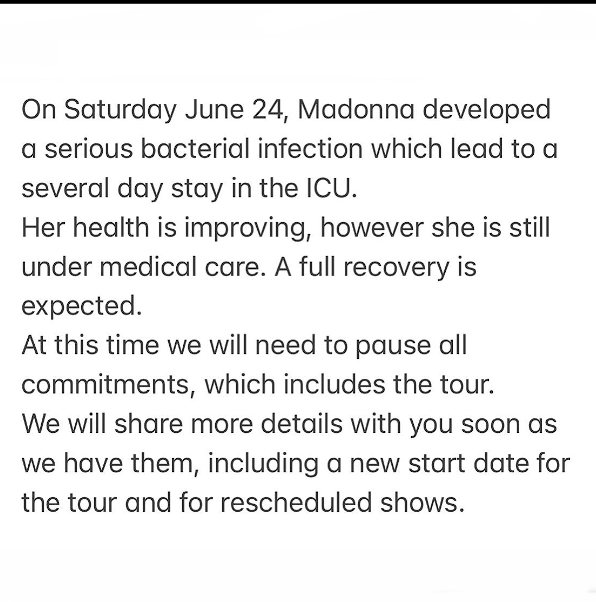 The hospitalization ulitmately provoked a number of adjustments in the artist's commitments, with the "Celebration Tour" being the most important one. The shows were supposed to kick off on July 15, with Madonna visiting Vancouver, Canada as the first stop of the concert tour. However, Oseary affirmed that the tour has been postponed for now and that a new start date and rescheduled shows will be announced later. 
It is not the first time the "Hung Up" juggernaut had to cancel or postpone concert dates. During her previous tour, "Madame X", she was forced to cancell a number of shows due to injuries.