Mark Zuckerberg and Elon Musk are two of the richest personalities in the world, with one of them being the Facebook founder and the latter, being Twitter's most recent CEO. The billionaires have been compared in the past due to different reasons, but this time they both took social media to agree on a physical confrontation. However, considering the tone of the messages, it is most likely a joke between the pair.
Recently, on Thursday, June 23 in the morning. Both Zuckerberg and Musk exchanged a few messages about possibly having a cage fight, which is a format of mixed martial arts. It all started when a Twitter user made a comment regarding the new app that Zuckerberg has in the works to compete with Elon Musk's Twitter application. This person replied to one of the threads by telling Musk to be careful because Mark Zuckerberg did jiujitsu. Musk later said "I'm up for a cage match if he is lol" in response to the user's joke.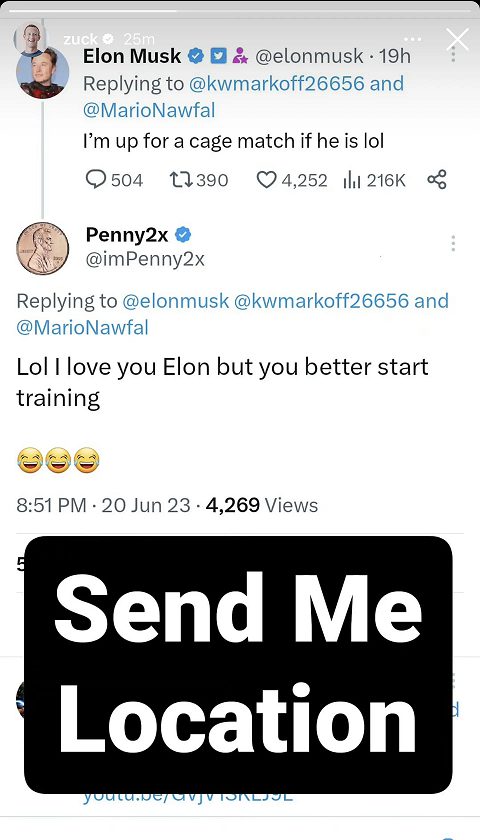 Eventually, Mark Zuckerberg went on to post a story to Instagram which read "send the location." After that, a reporter from The Verge asked Facebook's creator if he was serious and he replied "the story speaks for itself." As a result, the SpaceX entrepreneur accepted the battle and set up a location by saying "Vegas Octagon," and later stated that "I have this great move that I call 'The Walrus,' where I just lie on top of my opponent and do nothing."
While the probabilities of a real martial fight occurring are very low, memes, reactions, and jokes about the interaction blew up all around social media. A number of users said that Zuckerberg has a bigger opportunity to beat Musk since he has been training jiujitsu in Silicon Valley and has won gold medals in these competitions. In comparison, Tesla's CEO has confessed he has a sedentary lifestyle.
I have this great move that I call "The Walrus", where I just lie on top of my opponent & do nothing

— Elon Musk (@elonmusk) June 22, 2023