K-pop juggernaut, BTS, has been celebrating its 10th-anniversary since its debut all throughout the month of June. The members of the boy band have been sharing new songs, presents and surprises with their fandom, the so-called "ARMY," in different cities around the world to commemorate the occasion. This time around, the event was taken to South Korea's capital, Seoul, yesterday, Saturday 17 with an event that had over 400,000 attendees and fans.
In spite of the group having a temporary hiatus (with two of the members completing their military service, and the rest focusing their on their solo material and individual endeavors) the 7-piece group still found time to host the "BTS 10th Anniversary FESTA," a celebratory event for their supporters at the Han River Park. The festivity marks the culmination of BTS' tenth-year anniversary, after Seoul was painted in purple (the group's signature color) to make part of the celebration during this month.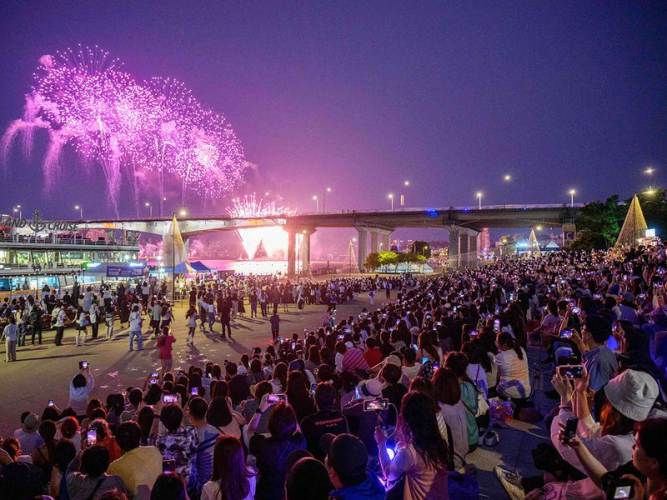 As part of the event, the band's leader, RM, received calls from his members Jung Kook and V during the festivity, and hosted something similar to a radio show where he talked to fans and answered some of their messages in the South Korean "Weverse" platform. Additionally, he decided to share some of his thoughts and thanked fans for their love with a short, yet emotional message:
Time goes by so fast. Everything has changed, and I've changed a lot. I'm not sure what I'm going to be doing with what feelings on the 15th and 20th anniversaries, but my love for you won't change.
The celebrations ended with a firework show at the Han River at 9 p.m (Seoul time). The spectacular show was narrated by vocalist and member of the all-male band, Jung Kook. Fans from places all over the globe gathered with the massive audience in the South Korean river, while others who did not have the chance to be there in person, had the possibility to enjoy their favorite's band birthday from home.