Eight years after Russian troops seized the southern Ukraine region of Crimea, Vladimir Putin celebrated the anniversary with thousands of people at Moscow's Luzhniki Stadium.
According to Russian officials, more than 200,000 people gathered at the stadium, although this information could not be independently confirmed. The official capacity of the stadium is 81,000 people, but there were also people outside.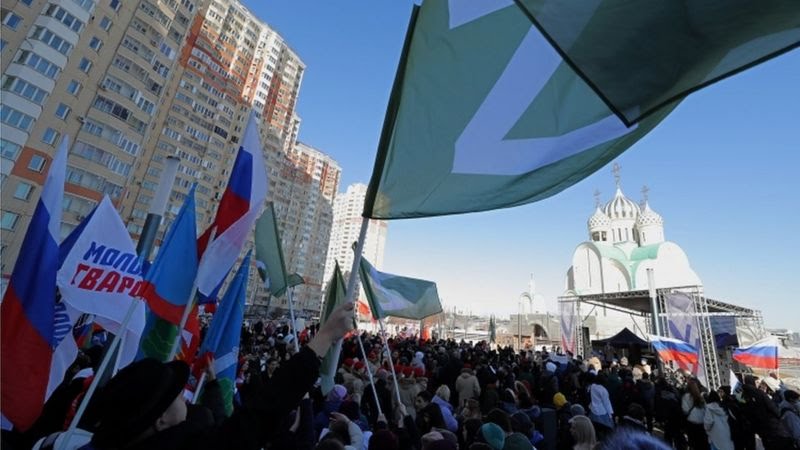 State employees assured that they had been told to participate in the celebrations this Friday. In schools, teachers gave classes on the "Crimean Spring".
Addressing the crowd, President Putin praised his country's armed forces, saying they had shown Russian unity: "When they need to, they protect each other from bullets using their bodies, like brothers. We hadn't had such a unit in a long time".
Moscow Mayor Sergei Sobyanin, who appeared on stage accompanied by renowned journalist Margarita Simonyan and Foreign Ministry spokeswoman Maria Zakharova, also addressed the audience.
By Will Vernon for BBC News in Moscow
I spoke to dozens of people lining up to get into the stadium.
Many told the BBC they worked in the public sector and had been pressured by their employers to attend.
A man who works in the Moscow metro told us that he and other employees had been forced to go to the event.
"I'll be here for a while and then I'll be gone … I think most people here don't support the war. I don't support it," he said.